In Animal Crossing: New Leaf you can build a complete snow family in winter. Between the 11. December and 24. February you can find two snowballs to roll every day in your city. If you stack them on top of each other, you will create one of the four different snowmen. Which snowman is made depends on how big the snowballs are.
If you roll the snowballs over the snow, they get bigger. To make them smaller, you can roll them over ground surfaces, the paved places in front of the buildings or bridges. However, the snowballs are also very unstable. If it rolls against a cliff, building or other obstacle, it will break. Also, if it is rolled into a gap between two trees and is too big for them, it will break. Furthermore, the snowball can still fall into the water and dissolve or fall down the cliff to the beach and shatter there. But if you then go into a building and come out again, a new snowball will appear in your city.
To create a snowman or a snowwoman you have to roll the smaller snowball against the bigger one. He will then jump on the other snowball and your snowman is finished.
Attention: Snowmen that are too close to trees, houses or other objects can be moved or even deleted by the game. You can't build another snowman until the next day, which can be especially annoying in the lucky five game. Make sure to always leave at least one space between a snowman and other objects.
Every day your built snowman will melt a little bit, even if it snows. After four days he is then completely gone. Set the time back a day and all the snowmen you've built will disappear instantly. Also a snowman built too close to a tree or a building disappears completely the next night.
You can only build one new snowman every day, even if you play with several characters.
Schnemo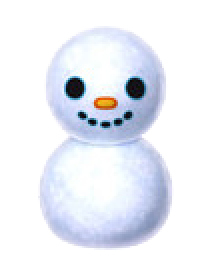 To build Schnemo, you need to put two small snowballs together. In order to get a gift from Schnemo you must before all the other members of the snow family have built in your city. Schnemo must also be perfectly proportioned. Which gift you get from Schnemo depends on how well proportioned the other snowmen are. You will receive the gift by mail the next day.
Number of correctly built family members gift
All four family members
Snowman family
Three of the four family members
Snow bunny
Two of the four family members
mini igloo
Only Schnemo
Sled
Schnelia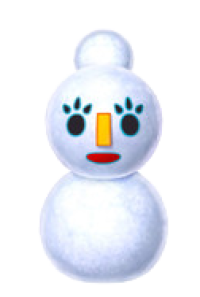 Schnelia is built from two medium snowballs, which should be slightly larger than those for Schnemo. To receive gifts from Schnelia you have to give her snowflakes. If you build it perfectly, it will want three snowflakes have – if you do not build it perfectly, it will be after five snowflakes ask.
Snowflakes fly randomly around the city during the winter months, even if it is not snowing at the moment. You can easily catch them with your landing net. If you give Schnelia the requested snowflakes, you will get a piece of furniture from the ice series. You can give her as many snowflakes as you can catch every day.
You can sell unredeemed snowflakes in the treasure trove.
Schnemil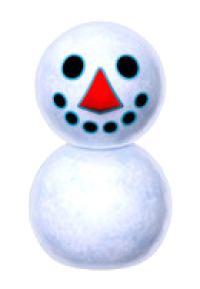 Schnemil is already known from the previous games. To build it, you need to roll two medium snowballs together. For you to get a reward, it must be built perfectly. If it is, the next day you will get an item of the snowman series, a snowman or the snowman hat by mail. If it is not, you get nothing.
Schnelio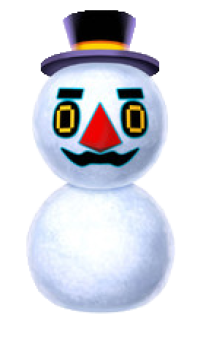 To build Schnelio, you need two snowballs as big as possible. Once he is built, he will hand you a lucky five card. Lucky five works like bingo. Every day you talk to him, you can play with him. His eyes will then roll and stop at a random number. If the number is on your card, you can punch it out. If not, you are out of luck. To get a higher chance of a lucky five, you can visit other cities where Schnelios are located to play lucky five with them as well.
If you score a lucky five (you must have five numbers in a row – vertical, horizontal or diagonal), you'll get one of the pieces of furniture listed here. To get a new lucky five card, you have to build a new Schnelio.
As long as there is snow in your city, the lucky five card remains valid and cannot be removed from your inventory. But if you set back the time by one day, the card becomes invalid and can be disposed of.